Healing Companions - Ordinary Dogs and their Extraordinary Power to Transform Lives
- Jane Miller
"These extraordinary dogs ground us, they warm our hearts, they challenge our minds, they transform us, they are there for us when others aren't. Healing us is what they do - and Healing Companions shares their extraordinary gifts with its readers."
Dr Bonita (Bonnie) Bergin President, Bergin University of Canine Studies, Assistance Dog Institute
Paws & Effect: The Healing Power of Dogs
- Sharon Sakson
Dogs have always been our friends and changed our lives for the better. But they may save our lives as well. Seamlessly weaving scientific research with compelling narrative, Paws & Effect tells incredibly moving stories of beloved pets that have supported their people through periods of ill health and other crises - with miraculous results:
- Little Ben, a Chihuahua who can sense impending epileptic seizures.
- Abdul, a Golden Retriever/Lab mix, the world's first service dog that helped his owner by retrieving keys & phones, medicine from countertops, water from the refrigerator, and could even hand in credit cards at the grocery store.
- A Dalmatian named Trudi, whose obsessive behaviour prompted her owner to seek a medical examination that revealed melanoma.
Working Like Dogs: The Service Dog Guidebook
- Davis & Bunell
A resource book for service dogs that captures personal stories, checklists and practical tips to provide the reader with an A-Z guide about service dogs.
This book is the ideal addition to every service dog training program as the resource for puppy-raisers, service dog applicants and recipients.
It's a 'must read' for anyone who is considering a service dog, has a service dog, is raising or is responsible for the care of a service dog and dog lovers who want to connect with the power of the human-animal service dog partnership.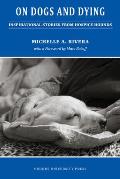 On Dogs and Dying: Inspirational Stories From Hospice Hounds (New Directions in the Human-Animal Bond)
- Michelle Rivera
Dogs know when we are feeling down. They love it when we are happy and seeking friendship and fun, and they understand when we are feeling sad and desperate.
This book presents a series of real-life tales of the positive effects dogs have had on people at the end of their lives, chronicling the visits by two therapy dogs, Woody and Katie, to patients in a south Florida hospice facility.
Animals in Translation and Animals Make Us Human
-
Temple Grandin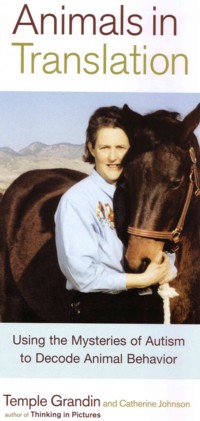 This book should be required reading for everybody who is considering getting a psychiatric service dog or is working on training them.
The use of psychiatric service dogs is relatively new compared to other types of service dogs such as guide dogs for the blind, rescue dogs or dogs to help people who use wheel chairs.
The combination of both the right dog coupled with positive training methods can further strengthen the human animal bond and help the field of psychiatric service dogs to develop
.
A Friend Like Henry: The Remarkable True Story of an Autistic Boy and the Dog That Unlocked His World
-
Nuala Gardner
A Friend Like Henry is a mother's heart-warming account of how her little boy conquered his autism with the help of a devoted family dog, a Golden Retriever.

When Jamie and Nuala Gardner chose a puppy for their son, Dale, they weren't an ordinary family choosing an ordinary pet. Dale's autism was so severe that the smallest deviation from his routine could provoke a terrifying tantrum. Family life was almost destroyed by his condition, and his parents spent most of their waking hours trying to break into their son's autistic world and give him the help he so desperately needed.
But after years of constant effort and slow progress, the Gardners' lives were transformed when they welcomed a new member into the family, Henry, a gorgeous golden retriever puppy. The bond between Dale & his dog would change their lives...
The Golden Bridge: A Guide to Assistance Dogs for Children Challenged By Autism or Other Developmental Disabilities (New Directions in the Human-Animal Bond)
- Patty Dobbs Gross
In The Golden Bridge, Patty Dobbs Gross provides both personal and professional advice on how specially bred and trained dogs help to facilitate communication for children with autism and other developmental disabilities. Myths and labels concerning autism are explored, examined, and redefined.
While focused on children, the advice that Gross shares will be immensely helpful for anyone involved in breeding, raising & training dogs to mitigate any type of disability at any age.
The Golden Bridge provides advice about living with autism, animal-assisted therapy and autism, training an assistance dog to work with a child with autism or a developmental disability, and using an assistance dog to deal with a child's grief.
The book also contains a vast list of resources and websites, for follow-up information, a section on books about autism, and a directory of assistance dog providers.

All Dogs Have ADHD
-
Kathy Hoopman (2008)
All Dogs Have ADHD
takes an inspiring and affectionate look at Attention Deficit Hyperactivity Disorder (ADHD), using images and ideas from the canine world to explore a variety of traits that will be instantly recognisable to those who are familiar with ADHD.
Following the style of the award-winning All Cats Have Asperger Syndrome, charming colour photographs of dogs bring to life familiar ADHD characteristics such as being restless and excitable, getting easily distracted, and acting on impulse.
This delightful book combines humour with understanding to reflect the difficulties and joys of raising a child with ADHD and celebrates what it means to be considered 'different'.
This absorbing and enjoyable book takes a fresh approach to understanding ADHD.
T
his
is an important book for anyone who handles, assesses, or trains visiting therapy dogs and it is essential for professional people who oversee therapy dog programs or include their own dogs in the their workplaces.
TEAMWORK I

teaches basic obedience and canine behaviour.
Teamwork II: A Dog Training Manual for People with Disabilities
(Book or DVD)- Stewart Nordensson & Lydia Kelley
TEAMWORK II

is a dog training manual written for people with disabilities to be able to train their own dogs to assist them in their daily lives.
Both

TEAMWORK I

and

TEAMWORK II

contain lots of color photographs and personal anecdotes along with the step-by-step instructions written in a clear and simple-to-understand format.
The Authors:
Lydia Kelly

has been a professional trainer for 25+ years. She is the Training Director for TOP DOG, a non-profit service dog program that teaches disabled individuals how to train their own service dogs.

Stewart Nordensson

(1937-1999) was severely handicapped with cerebral palsy but still trained over 50 service dogs throughout his life and became expert at obedience training and canine behaviour.
Handbook on Animal-Assisted Therapy. Theoretical Foundations and Guidelines for Practice
- Fine Ed. (2000)
"This is a very in-depth and informational text on animal-assisted therapy (AAT). It is full of good historical and up-to-date information to guide the practitioner wanting to begin AAT. It gives concise, detailed information on all areas of AAT including how to start a program or improve a current program. Anyone interested in the human-animal bond, particularly on how it relates to helping in a therapeutic setting, must read this book."
Kent Davis, DVM (University of Illinois Veterinary Medicine Teaching Hospital)
Animal Assisted Counselling Techniques
- Chandler, C. K. (2005)
Animal Assisted Therapy in Counselling
is the most comprehensive book available dedicated to
training mental health practitioners in animal assisted therapy (AAT)
.
It explains the history and practice of AAT in counselling, discusses the latest empirical research, and provides an in-depth explanation of the psychodynamics of AAT within various theoretical frameworks. Readers will learn the proper way to select, train, and evaluate an animal for therapy.
Guidelines for implementing AAT in settings such as private practices, community agencies, schools, hospices & prisons are covered, as well as ethical and legal considerations, risk management, diversity issues, crisis and disaster response applications.
Numerous case examples illustrate the use of AAT principles with clients, and forms, client handouts, and other resources provide valuable tools. This unique resource is an indispensable guide for any counsellor looking to develop and implement AAT techniques in his or her practice.
The Power of Wagging Tails: A Doctor's Guide to Dog Therapy & Healing
The Dog's Mind: Understanding Your Dog's Behaviour -
Bruce Fogle 1992


Getting Started: Clicker Training Kit for Dogs
- Karen Pryor
Clicker training is a simple & effective method of training based on a positive reinforcement reward system. Clicker training uses your dogs own natural desire to learn & obtain a reward without having to use any force or punishment. The clicker is used to reward a specific behaviour and works on your dog's willingness to want to please you and earn his prize.
Research
Animal Law