Information about Fundraising
_______________________________________________________________________________________________
This section is to show readers the different types of fundraising that can be utilised to raise funds and awareness for your favourite cause or charity.
The best way to raise money for your chosen cause will often depend on the resources available and the supporter base. It's helpful to think about the different options available and how they could benefit your chosen organisation. Some things to think about might be:
How much money is needed?

Is the purpose just to raise money or is it also to raise awareness?

What resources are available to support the fundraising?

What is the timescale?
For further information on a range of fundraising issues and techniques see below.
_______________________________________________________________________________________________
Selling items to the highest bidder
Auctions, often held at one-off fundraising events, can be a great way to increase revenue.
Unlike raffles and lotteries, auctions have the benefit of not falling under gambling law. However, you still need to be aware of consumer legislation in each state.
Fundraising auctions are great for a range of occasions, including:
§
Sporting Events & Fundraisers
Example
:
Celebrity Collars for Dogs
R
obin Williams topped list of celebrities donating their dog's used collars for a "Celebrity Collars for Dollars" fundraising auction for Dogs Deserve Better
,
a nonprofit working to bring dogs into the home & family.
Williams

donated collars from family pets Gabby & Mable-Mae signed with each dog's name.
Australian Nonprofit Auction Sites:
www.fundraisingauctionsaustralia.com.au and
http://helpinghand.com.au
Beneficiary Gifts
_______________________________________________________________________________________________
Engaging donors in a creative and fun way
Beneficiary or virtual gifts, involve donors 'buying' a gift for a recipient from a catalogue or website but instead of the recipient receiving a gift, the donor's money is spent on a charitable activity or product. They can provide a fun and altruistic way in which to engage donors by:
offering supporters a new way to engage with the charity

capitalising on the public's desire to shop ethically via catalogues and online

offering donors a new way of donating

creating a new revenue stream

acquiring new supporters

testing catalogue products and direct mail asks

raising awareness of the charity among recipients
Before starting a beneficiary gifts scheme, careful planning is needed. What will you offer? How many items are needed? Does the catalogue reflect beneficiaries' needs?
What do you give to someone who has everything? How about a goat, chicken or pig? Oxfam unwrapped offers a range of gift ideas that will also help transform the life of a person living in poverty.
_______________________________________________________________________________________________
You can help create a better world by including a charity in your will.
Bequests are:
§
biggest gifts received by charities from individuals
§
largest source of voluntary income to charities
§
made
by people from all walks of life not just the wealthy
Research shows that 3 out of 4 Australians are generous and support charities, but due to lack of awareness, less than 7.5% of Australians leave a gift or bequest to charity in their Will. If 12% of Australians made a bequest to charity an additional $440 million would be raised for charities. Bequests are:
Essential in providing much-needed funds to charities

Effective and easy to include in your Will

A generous way to leave a legacy that honours causes close to your heart
There are many ways that you can continue to help your favourite charity or cause by either including a bequest to the nonprofit in a new will, by executing a codicil to an existing will which includes a bequest to the organisation or by nominating the organisation as a beneficiary of a policy of insurance payable on death. You could also leave:
The residue of your estate

(

i.e. remainder of your estate after specific gifts have been disbursed)

Percentage

of the residue of your estate or % of your entire estate

A pecuniary gift

(

i.e. a specific gift of cash)

An asset

(

e.g. real estate, shares, bonds or other articles of value)

An alternative or conditional bequest

in case your beneficiaries don't survive you, you may leave your Estate to your chosen charity or cause
You should discuss your wishes with your family and solicitor. If you choose to leave a gift in your Will to a particular charity contact them and see if they have a suggested form of wording that may be useful to you, your solicitor or trustee company.
Include a Charity
is designed to raise awareness of the ease and effectiveness of leaving a gift in your will. It encourages people to consider leaving a gift to charities after considering family and friends.
Include a Charity
is the result of over 130 of Australia's favourite charities working together to do what no single charity has ever been able to achieve on its own - change the way Australians think about including charities in their will.
The Dogs Trust welcomes legacies (bequests) and wants to care for dogs whose owners can't do it themselves or are no longer around.
Persuade pet owners to carry the Canine Care Card. This fulfilled two main objectives for the Dogs Trust.
Encouraged people who might be elderly and living alone to notify them of their pets and their needs.

Created a great platform for bequest fundraising.
Bequest Pitch – 'I want my dog to keep on smiling'
This is really clever fundraising. The Dogs Trust offers its supporters the chance to join their Canine Care Scheme which ensures that if they die before their beloved pet dog, they will look after the dog for rest of its life. This idea is going to appeal to an elderly dog-loving donor. So, which charity is a dog-loving donor likely to leave a Bequest to?
Result
-
The Dogs Trust raised millions from this proposition…
And finally...leaving a bequest can help to provide the life changing gift of freedom & independence.
_______________________________________________________________________________________________
Anyone can start a blog to promote your favourite charity or cause - it's simple and free!
You +1'd this publicly. Undo
Free weblog publishing tool from Google, for sharing text, photos and video.
There are over 500,000 causes. Find yours. Or Start a Cause
_______________________________________________________________________________________________
Anyone can start a campaign
Example: Emergency Pet Oxygen Masks
Few fire stations have a pet oxygen mask to use during emergencies to save pets' life. 100,000+ animals p.a. die from inhaling poisonous gases in fires, according to US Fire Administration.
A young entrepreneur started Pet Mask - a fabulous initiative to help save the lives of pets across the country. Her goal is to raise funds in order for all fire stations across the US to have these life-saving masks. Becoming a sponsor or donate to your local fire department or become a sponsor by contacting Monica at sponsorship@petmask.com
A picture paints a thousand words! Say no more in this clever campaign against tail docking.
Example: Campaign against Puppy Mills
Puppies from 'puppy farms' are predominantly sold through classified ads online and in newspapers, and to some extent through pet shops. If you buy a dog from a puppy farm through a classified ad there is no means of comeback if the dog becomes ill or even dies.
These deals are often carried out in a car park, with a disposable mobile phone number as the only means of contacting the seller.
This is another clever campaign photo which packs a punch!
_______________________________________________________________________________________________
You don't have to use cash to make a gift!
You can give your chosen charity or favourite cause stocks, bonds, mutual funds. You charitable deduction will be the full, fair market value of the securities, with no capital gains on their appreciation.
You can also give other non-cash gifts such as paintings, personal collections, buildings, vehicles, etc. You will need to check the financial and legal side of your gift to maximise your gift.
Challenges facing Charities
_______________________________________________________________________________________________
The challenge most often reported by charities as their major and ongoing one is that of attracting
Donors
and
Supporters.
As well as constantly finding new ways to raise funds, charities are also being asked - by both donors and the various regulations under which their operations fall (e.g. the introduction of new arrangements relating to the GST) - to operate effectively and in business-like ways. However this responsibility carries with it administrative and operating challenges of various kinds - especially costs.
Donors & funders often seek 100% return on their donation (directly to charities recipients); however this unrealistic as there are real overheads and operating costs that must be met. No charity runs on fresh air!
Charities
_______________________________________________________________________________________________
How to find Australian Charities and Nonprofits
The Australian Not-for-Profit sector is made up of 600,000+ organisations - animal welfare organisations, overseas aid organisations, medical research groups, disability advocacy organisations, human rights – there is a Not-for-Profit organisation for almost every cause you can think of.
The
Not for Profit Sector
, sometimes referred to as the
Nonprofit
,
Community
,
Voluntary
,
Social
or

Third Sector

, is the social fabric that holds society together.
These organisations (also known as charities) rely on donations from individuals, corporates, trusts and foundations to continue to work towards making the world a better place to be. You can find Australian Charities and Nonprofits online.
These organisations (also known as charities) rely on donations from individuals, corporates, trusts & foundations to continue to work towards making the world a better place to be.
There is no comprehensive list of all charities in Australia, but there are several websites which provide lists of charities. In some cases charities must pay to be listed, and in other cases the listing is free. None of these listings is comprehensive but there is generally a good representation of charities

.
Philanthropy Australia
www.philanthropy.org.au/involved/charities.html
Philanthropy Australia is the national peak body for philanthropy and is a Not-for-Profit membership organisation.
Ourcommunity.com
www.ourcommunity.com.au
Online Directory of Nonprofit Groups and Charities
Pro Bono
Australia
publishes the
Australian Directory
of Not for Profit Organisations
'

Pro Bono's 'Guideto Giving

'
is a D
irectory
of Australia's Not-for-Profit organisations. The
print copy is distributed annually to
56,000 Donors and Funding Advisors
across Australia, or you can find listed charities online.
Australian Charities
is a portal for major Australian Charities and the publication
The Charities Book
www.auscharity.org
Remember Me

-

Australian Charity Listing Directory
www.rememberme.com.au
Australian Charity Guide
www.australiancharityguide.com
_______________________________________________________________________________________________
How to remain open, accountable and legal during your fundraising collections
Fundraising Collections are a common method of raising money for charity, particularly amongst volunteers.
There are many different forms of charitable collections, and all have different rules associated with them. Some of the most common are:
Street Collections

- If you are holding a collection in the street, you will need to obtain a licence, either from your local or state authority.

Private Collections

- If your collection is still open to the public, but being held on private property such as within a shopping centre, rail station or airport, you must obtain permission from the landowner or manager.

Static Collection Boxes

- Boxes must be secure and tamper proof. You do not need a licence to place these in a shop or business, just permission from the business owner.

House-to-House Collections

- Licences must be obtained from the relevant local authority.
Charity e-cards
_______________________________________________________________________________________________
20% of every dollar goes to your nominated charity so the more people who view your card the more $'s get donated. Charity e-cards support local & national charities, large & small, so you're certain to find a worthy cause to support.

Sending e-cards is a great idea as they are:
1.
Extremely Cost Effective
2.
Speed and Ease of Delivery
3.
Environmentally friendly and kind on the Earth's resources
4.
20% of each sale supports your chosen Charity; and, your clients will know that your company is supporting Charity through your e-card.
_______________________________________________________________________________________________
Establishing a Charitable Fund Account
Anyone can establish a charitable trust account within the Lord Mayor's Charitable Foundation. This simple and cost-effective charitable trust account will continue to support your community, in your name, forever!
All contributions are tax deductible.

No establishment fees.

You choose the name of the account.

Establish Trust from $2000.

Management fee 1% p.a.

Complete transparency
Charities Working with Businesses/Corporates
_______________________________________________________________________________________________
Check best practise & legal guidelines for charities engaging with the commercial sector
Corporate Partnerships can bring many benefits. They can provide much needed funds from marketing or community budgets, good PR, brand awareness, awareness of corporate social responsibility, volunteers and gifts-in-kind.
However they have the potential to bring with them problems and conflicts without correct preparation. Much will depend on how the relationship is set up and the preparation undertaken right at the beginning.
Each year Kleenex Cottenelle raises money for Guide Dogs Australia and promotes awareness to help train more puppies to become Guide Dogs, ultimately enriching the lives of people with vision impairment.
New Kleenex Cottonelle TV commercial called "When Nature Calls" features the Kleenex Puppy and a baby orangutan in his natural environment.
Kleenex Cottonelle is FSC Certified and supported by WWF. This advert covers puppies, baby wildlife, nature and environmental issues…what a clever promotional video!
RSPCA Australia has worked for the welfare of animals since 1871. It is the only national animal welfare charity and one of the most well-known and respected. RSPCA's core values of Caring, Educating, Protecting and Improving Welfare Standards resonate strongly with the community.
As a trusted charity the RSPCA offers many benefits to corporate partners and has built a family of sponsors with similar values whose association with the RSPCA strengthens respective positions in the community. RSPCA works hard to preserve the integrity of the RSPCA's name and will only partner with organisations that are closely aligned to its ideals and Mission.
RSPCA has a number of products manufactured under the RSPCA brand.
RSPCA endorses a limited number of products in the market and will only endorse products that offer positive alignment with the RSPCA's core values and assist it in achieving its Mission. This may be achieved via a number of avenues including products that aid in education, promote animal welfare or raise income.
Companies seeking RSPCA endorsement of a product should contact the RSPCA
www.rspca.org.au
Credit Cards
_______________________________________________________________________________________________
'Save lives every time you shop'
The RSPCA joined forces with Bendigo Bank and VISA International to create an exciting range of credit cards that offer Australians a way to help one of the nation's favourite charities.
Every time you use a
Bendigo RSPCA Rescue VISA
card

to make a purchase or pay a bill, you'll help the RSPCA save lives.
Each card features the image of a real animal the RSPCA has rescued - true stories that are a reminder of why your support is so important.
Two tiny Chihuahua cross puppies were found by a member of the public, brought to the RSPCA, treated and adopted out to a happy new home.
Result
:
Over
$1,000,000
has been raised so far by RSPCA supporters shopping with the
RSPCA Rescue Visa card
which helps fund the RSPCA's national Adopt-A-Pet Program.
_______________________________________________________________________________________________
Regulations that cut across many fundraising techniques
Data protection legislation affects many areas of fundraising. Fundraisers need to ensure they comply with the regulations.
ensure you have the necessary permissions to contact supporters

do not retain any information on a supporter or prospect that you would not be comfortable sharing with them

do not use information in a manner that the supporter would not wish

do not share data in a manner that a supporter would not wish
_______________________________________________________________________________________________
Best practice considerations when embarking upon a direct mail campaign
Direct Mail is a popular and traditional fundraising technique that can generate significant income for fundraising organisations. It can be used to inform potential supporters about a cause, ask for financial support or to help build a relationship with supporters. Direct Mail:
Campaigns should be targeted and effective to help maximise returns and minimise annoyance with unwanted mailings.

Should be decent, honest and transparent, providing potential supporters with the tools to make an informed decision about whether to support a cause.
Dogs Trust

looks after around 15,000 abandoned dogs each year. The Trust aims to find new homes for all dogs and no healthy dog is ever destroyed.
Dogs Trust Campaign - Sponsor A Dog!
Premise:
For a regular gift of $1 each week, you can sponsor one of The Dogs Trust long-term residents.
Goal:
To build strong relationships with its donors. All promotional materials were heavily anthropomorphic - dogs asking donors directly, 'will you be my best friend?' proved irresistible.
Campaign
:
Letters to sponsors were written as if they had come directly from the dog. Sponsors responded warmly to this & often replied to 'their' dog. The 'sponsored dog' formed a relationship directly with the donor, through letters & cards.
Handwritten envelopes, postage stamps and cards were used to make these communications more personal. All materials were bright and cheerful with no harrowing images, so donors could open the mail without fear.
Result
:
Dogs Trust generates over £15mil p.a. from Dog Sponsorship (200,000 sponsors).
This is the classic 'sponsor an animal' fundraising product which led to extraordinary fundraising success for Dogs Trust.
In 1999,

The

Dogs Trust received a

bequest

of £7.5mil.

The person who made this amazing gift was a 'dog sponsor'.
_______________________________________________________________________________________________
Nonprofits rely on the generous support of individuals to carry out their vital work in the community. There are lots of ways that you can help your favourite cause.

Making a donation is the quickest and easiest way to help others. Donation methods include:
Credit Card, Direct Debit, BPay, Cheque or Money Order, Phone, In-person and through Face-to Face Collections (House or Street)
NB
:
Every page of charities website should have a prominent
Donate Now
button!
Example:

Assistance Dogs Australia
Each dog is supplied with items of standard equipment (e.g. a service dog coat). This coat is specially designed and made to help identify Assistance Dog in the community.


_______________________________________________________________________________________________
Raising money in response to an urgent disaster
Lots of people feel compelled to help others in response to an emergency. In most cases, the best way to help is through donations and fundraising. Established fundraising organisations will often already have operations in the disaster area, so channelling money through those organisations can be an efficient way to help those in need.
Example
:
RSPCA Victorian Bushfire Appeal
The 2009 bushfires in rural Victoria resulted in a devastating loss of human life and property. Over 1,000,000 animals also fell victim to the bushfire tragedy and thousands of native, livestock and domestic animals faced the threat of starvation and loss of habitat.

RSPCA shelters and inspectors worked around the clock to provide emergency assistance to animals affected by the bushfires.
Financial donations were required to support RSPCA's emergency relief work.
Result
:
$4.1mil+
was raised for the RSPCA's Victorian Bushfire Appeal
Sam the Koala -
Firefighter gives Koala a drink (2009 Australian Bushfires)
Best practice for organising fundraising events
Organising events as a means of fundraising can be a great way to involve an array of different people and the community as a whole. It can raise awareness for your cause in a fun way, reaching new audiences and a wider new supporter base.
RSPCA Cupcake Day is the biggest bake-off in the Southern Hemisphere. It involves people around Australia baking cupcakes and hosting a Cupcake Party to raise vital funds for the RSPCA.
The Million Paws Walk is the RSPCA's major national fundraiser. Every year over 60,000 people and 25,000 pets hit the pavement to raise much needed funds for the RSPCA.
On the street and house-to-house
Face-to-Face activity incorporates traditional face-to-face fundraising (soliciting direct debit donations) and what is commonly termed 'prospecting'. Prospecting is where members of the public are asked to sign-up to a cause which may or may not be followed by a fundraising 'ask' at a later date.
Face-to-face activity can occur on the street, from house-to-house or on public and private property such as shopping malls and railway stations.
Before embarking on a

face-to-face

activity in a public place, it is important to check the access management requirements with the relevant authority.
Different governing bodies have statutory and non-statutory requirements throughout Australia. Check with each state's legislation and any federal legislation.
Wood Green

carries out 'face-to-face' fundraising campaigns. Fundraisers knock on doors to talk to people about the work of Wood Green
and ask people to support them by making a regular donation.
Face-to-face fundraisers wear a uniform clearly branded with the Wood Green logo. All face-to-face fundraisers have a photo ID and carry up-to-date branded literature. The fundraisers only ask for regular gifts via direct debit and do not accept any other means of payments in the way of a donation (e.g cash, cheque).
Best practise and sources of information about fundraising
Association of Fundraising Professionals (AFP)
-
AFP represents 30,000+ members in 200 chapters throughout the world, working to advance philanthropy & fundraising through advocacy, research, education & certification programs
www.afpnet.org
Fundraising Institute of Australia (FIA) -
FIA is the national peak body representing professional fundraising in Australia
www.fia.org.au
Institute of Fundraising (IoF) UK
-
IoF is the professional membership body for UK fundraising. It supports fundraisers, through leadership, representation, standards-setting & education
www.institute-of-fundraising.org.uk
Resource Alliance
works with civil society organisations around the world to help them build their financial sustainability.
Showcase of Fundraising Innovation & Inspiration (SOFII)
-
SOFII provides fundraisers with an online archive of fundraising best practice and creativity. It covers all areas of fundraising from all corners of the globe
www.sofii.org
Finding Funding
______________________________________________________________________________________________
How to apply for funding and where to look
Many fundraising organisations receive much of their funding from statutory sources and grant making Foundations &Trusts. There are numerous sources of funding available but it's important to know where to look and how best to approach funders. Useful sources for accessing information about grants in Australia include:
Individual Foundation & Trusts
Also check out individual Foundation & Trusts own websites (e.g. Myer Foundation, Ian Potter Foundation)
Finding Guides
______________________________________________________________________________________________
There is plenty of free downloadable fundraising information on the Internet
20 top corporate fundraising tips

How to write a fundraising proposal

Tips on how to get started in local fundraising

How to organise events to raise money by Michael Norton

How to find funders
Getting Started in Fundraising
______________________________________________________________________________________________
How to begin raising money for the causes you support
There are many different ways that you can raise money for your chosen cause. Such causes do
not
have to be registered charities in order for you to fundraise for them. For example, you may wish to raise money for an individual in need, and you would not be able to register that as a charity, as it is for a private cause, rather than having a public benefit.
However, no matter how you fundraise, you need to make sure you are open and honest about what it is you are raising money for.
If you don't know who to fundraise for, you could start by searching for existing charities online.
Letting Them Know
Contact the organisation you are fundraising for. They may be able to provide you with advice and materials that could help you.
If you cannot find an organisation that already supports your chosen cause, you could establish a new fundraising organisation. There are many different options that you can consider in terms of the organisation's structure. To register as a charity you will need to be able to demonstrate public benefit and meet certain charitable tests.
TIP 1:
Know who you are fundraising for
Before you start, it is best to decide

for whom and

for what you are fundraising, because the law says that the funds you raise

must be spent on the cause you say you are raising funds for. If you know which charity you would like to help, go to their website or give them a ring.
TIP 2: Think about what type of fundraising you would like to do
You may already know what you would like to do - organise a sponsored walk or a pub quiz, sell raffle tickets, hold an auction of promises - the list of possibilities is limited only by your imagination.
TIP 3: Contact the charity's fundraising department
Most volunteer fundraisers choose to organise or participate in events such as sponsored races or walks, cake sales, gala evenings or auctions, or they decide to hold a collection for a local charity.
Once you have decided which organisation you wish to raise funds for and what you would like to do, you are ready to start!
_______________________________________________________________________________________________
Donating money, goods and time
If you would like to donate some money but have no favourite charity there are a number of databases of charities which will enable you to search by geographic area or field of charitable benefit.
You can also do your own fundraising by becoming a charity hero or volunteer fundraiser.
Goods can be donated through charity shops, through collection banks or through door-to-door collections. In addition to helping your favourite cause, goods are recycled which is good for the environment.
Every year thousands of loving pets are neglected, dumped and abandoned. The lucky ones end up at animal shelters that provide them with the food, love and veterinary attention they need to get back on their feet. Adopting an abandoned pet or farm animal is a wonderful way to give that animal a new life in a loving family.
If you would like to offer your services as a volunteer, contact the charity of your choice, or visit your local volunteer centre. There are a growing no of volunteer schemes you can sign up for.
Example
:
Volunteering Australia
GoVolunteer
is a national volunteer matching website which lists over 11,000 volunteer positions throughout Australia per month.
GoVolunteer
is an initiative of Volunteering Australia.
A Giving Circle is a group of people who get together to make positive change. The Giving Circle approach inspires, educates and encourages group members to become philanthropists.
Giving circles vary in size, structure and focus. Some are small and very informal, almost like a book group that meet in each other's homes, share ideas and take it in turns to decide where their combined funds should be invested. Others are much more formal with detailed investment criteria, due diligence processes, site visits and their own nonprofit status.
GiveNow.com.au

aims
to transform Giving in Australia. It provides a range of free resources and giving tools – a commission free website listing thousands of good causes and creative ways to give, a personalised donations tracking service, and a free giving newsletter.
Results
:
$21,330,666
raised to-date
Don't want to give yet another unwanted, unnecessary gift? This year, give a good gift! Use the
Good Gifts Guide
to help create more meaningful gift giving this Christmas. This Guide has been produced as part of
Give Now Week
www.givingweek.com.au
_______________________________________________________________________________________________
Understanding the overarching principle of fundraising
No matter who you are or what you are fundraising for, you need to be as upfront and honest with donors. The more transparent the sector is with the public, the more trust and confidence the public will have in the sector.
Money must be used as intended by donors. If you raise money for a specific purpose, you have to use the money for this purpose. It's often helpful to include a secondary purpose when asking for money to allow more flexibility in spending the money. This can be particularly useful if you raise too much or too little money, or if circumstances change.
_______________________________________________________________________________________________
Sourcing and applying for grants – there are lots of places to find grants you just need to look, for example:
Volunteer Grants
-
Department of Families, Housing, Community Services & Indigenous Affairs
(
FaHCSIA
)
GrantsLINK
–
Directory which has information about federal, state & local government funding programs
where you find funding for individuals, businesses and communities.
Tips for Successful Grant Applications:
Submit a good application for funding will improve your chances of success.

Refer to the guidelines provided by the funding body.

Check the final date of application

Apply within parameters of the funding guidelines (e.g. under $500 don't apply for more)

Matched funding - demonstrate evidence of other organisations contributions

Demonstrate evidence of volunteer & organisational contributions
Help with Grant Applications:
For additional guidance on writing applications:
Useful TIPS when Applying for Funding
Follow all the instructions available in the application pack or information on the website. Read all documents pertaining to the application carefully. When completing an grant application form:
Check whether you are eligible before applying.


Read the Application Pack for eligibility criteria carefully before applying for funding.

Check if applications are hard copy, electronic or both.


Read the instructions in the Application Pack carefully to ensure that your application is submitted in the required format.

Complete full details and bank account details of the organisation applying for funding.
Make sure you complete the details of the organisation and bank account details of the organisation as requested in the Application Form.
Attach requested supporting documents.


Attach any supporting documents to the application specified in the Application Pack.

Respond to all the selection criteria.
Make sure you answer all the selection criteria within the word/page limits specified in the Application Form. All selection criteria are equally important.
Provide evidence to support your claims against the criteria.

Read and complete the declaration.
Read and complete the declaration part of the Application Form carefully. You must sign the application if sending a hard copy.
Prepare application in advance of closing date.
Allow a deadline for yourself that is at least two weeks prior to the closing date. Use this period to collate all relevant material and to proof read your application before the closing date. Use the Application Checklist if provided in the Application Pack to ensure that you have completed all parts of the application. Provide a 'not applicable' response to questions that do not apply to your application.
Keep a record of your application.


Before sending the application, make a copy of the entire package and keep it on file for your own records.

Use the questions and answers facility.
An online FAQ facility is usually available on the funder's webpage or call the hotline number given in the Application pack for any questions not addressed.
_______________________________________________________________________________________________
Many nonprofit organisations welcome all types of in-kind donations. For example:
Wish List for Dog Charities:
Some dog organisations have breeding programs in place (Guide Dogs); many cannot
afford it (Assistance Dogs).
Assistance Dogs of America, Inc

. receives puppies donated between the ages of 8 weeks and 6 mths old. They count on the generosity of breeders to donate puppies to our program.

_______________________________________________________________________________________________
Showcasing new fundraising ideas, products and services
Example
:
Tap to Donate: Are Mobile Wallets the Next New Thing in Fundraising?
The latest advance in mobile technology in the form of 'mobile wallets' has barely touched down in Australia, but experts suggest they will dramatically transform how consumers purchase goods and services and make instant donations.
Mobile Wallet
or
NFC
(near-field communication) technology allows a consumer, usually through a mobile phone app, to tap their mobile phone or wave it in front of a computer screen to instantly pay bills, make donations or pay for other goods and services. Source: Pro Bono 2011
_______________________________________________________________________________________________
Best practice and considerations around major donor fundraising
To maximise the benefit of major donor relationships, charities must not only have a comprehensive approach to major donor fundraising but also an awareness of many other aspects of fundraising. For example, major donors may wish to support charities through private trusts and fundraisers need also an awareness of any tax-reliefs that might apply.
Excellent donor care can lead to long and beneficial relationships with donors. Donors may then choose to support the charity in other ways such as through leaving a bequest or giving through business.
To secure a major gift you don't need a slick presentation or smart proposal. You just need three things in place

:
The donor knows your organisation and its cause.

He or she has wealth.

He/she has a passion that matches your funding need.
Get those three in place and any donor will be delighted to help....
Matched Funding or Matched Gifts
_______________________________________________________________________________________________
Matched Funding or Matched Gifts
Example
: Birds Australia's partnership with The Nature Conservancy
Birds Australia is eligible to receive matched funding for the Great Western Woodlands (GWW) Project from The David Thomas Challenge. Donations for the GWW Project which meet the criteria will be matched on a 1:1 basis.
What gifts qualify for a Thomas match?
Outright gifts or pledges from individuals. Gifts or pledge payments may be in the form of cash and/or shares and may be made through an individual giving vehicle such as an individual's associated foundation or trust.

Gifts or pledges from living Australians (no bequests).

Gifts of at least $10,000 and no more than $1,000,000 annually for up to 3 years. $10,000 minimum gift must be paid in a single year.

Gifts from donors who have not previously had their gifts matched by the Thomas Challenge Fund.
Employers Matched funding Programs
_______________________________________________________________________________________________
Many employers have a match funding program, where they'll match dollar for dollar the amount raised by you or your team. Even if your employer doesn't have such a program, they might still be willing to make a donation - all you have to do is ask!
Even if you're participating as an individual or with another team, and not representing your employer, you may still be eligible for match funding from your employer.
The following companies have
Match Funding Programs
in place:
3M,
AMP,
Accenture,
Australand,
Barclays,
Bloomberg,
Credit Suisse,
CA Technologies,
Clayton Utz,
Deloitte,
Deutsche Bank,
Ebay,
Freehills,
Fosters Group,
Google,
Greenwoods &
Freehills,
Investec Bank,
Johnson & Johnson Pacific
,
Macquarie Bank,
Macquarie Group,
Mallesons Stephen Jaques,
Miele Australia,
Origin Energy, MLC,
NAB,
Russell Investments,
Sun Microsystems,
SP AusNet,
Symantec,
Stockland,
Thomson Reuters,
UBS,
Upstream Print Solutions,
Unilever,
Vodafone,
Wellington Management,
Westpac & Woolworths.
If you don't see your employer here - ask them to consider a match funding program!
Other ways to involve your workplace -
As well as matched funding, your workplace can support nonprofits in a variety of ways, including payroll giving, tied donations, volunteering, and staff fundraising events.
_______________________________________________________________________________________________
Best practice and considerations around Merchandising
There's all kind of merchandising opportunities for charities to utilise to help raise funds and at the same time raise awareness of their organisation's great work. And people like to buy into a trusted brand.
But charities need to ensure that their product is good quality and brand related, for example RSPCA...
_______________________________________________________________________________________________
Mobile Fundraising is easy, affordable, far reaching and fast!
Example: Mobile Fundraising Kicks in for Japan Catastrophe
Nonprofit organizations such as the American Red Cross and the Salvation Army, wireless carriers and a range of celebrities have stepped up to issue mobile calls-to-action to raise funds to support victims of the tragedy in Japan.
The "Text REDCROSS to 90999" initiative, which was set-up following the record-shattering "Text HAITI" campaign, is available for the public to use as an outlet for their compassion and a way to support the

Red Cross

mission.
To date, the American public has already donated more than $1.1mil via 'Text REDCROSS to 90999' in support of the Japan Earthquake and Pacific Tsunami.
"Mobile provides a powerful way for people to respond to a global need, even in a developed nation like Japan. It mobilizes people who are compelled to give small and large amounts alike". Jenifer Snyder Executive Director mGive Foundation
The 2010 Mobile Donation Campaigns for Haiti highlighted the powerful potential of mobile technology to help relieve human suffering. The text-message Campaigns for Haiti conducted by charitable organizations and facilitated through the
mGive Foundation
raised more than $41mil.
_______________________________________________________________________________________________
Making the most of online communications
The internet is an amazingly useful tool available to nonprofits. Online communications can be used for a variety of means, including campaigning, donor care and fundraising.
Rise of Social Giving - Facebook predicted to drive 50% of online fundraising donations by 2015
Twitter users are the most generous charitable givers on social media but Facebook users are more frequently persuaded to give, according to research by UK's JustGiving.
According to JustGiving's data, the value of a donation made by a donor coming from Twitter is on average £30.26, followed by YouTube (£28.77), Linked-In (£25.21), Facebook (£18.33), with Google+ at £17.77.
Donations driven from Facebook made up over ¼ of all donations made on JustGiving in Sept 2011 - a rise of 130% over the past year, compared to Twitter driving less than 1%. The online charitable giving platform has predicted that by 2015, half of donations will be driven through Facebook.
Source:
The Drum co.uk.news 2011
RSPCA
joined forces with
Everyday Hero
so that people could create their very own
Million Paws Walk 2011
online fundraising page to raise vital funds for the RSPCA. People were able to:
Create their own RSPCA Million Paws Walk Online Fundraising Page to raise funds through

them, their pets, personal or corporate teams walk'

!

Create an

'in-lieu'

RSPCA Million Paws Walk online fundraising page for those pets who couldn't make it on the day, but would still love to raise funds (older dogs and pets who had recently passed away)
There are also online organisations who provide opportunities for online giving
JustGive USA
JustGive
is a nonprofit organization whose mission is to increase charitable giving by connecting people with the charities and causes they care most about.
The

JustGive Guide

compiles 1,000 nationally recognized charities and categorizes them into 19 cause areas for easy-to-use navigation.
A
JustGive
"Donate Now"
button on a nonprofit's website lets people know the nonprofit is partnered with
a recognised
Online Charitable Giving® website. JustGive provides donors with:
automatic monthly recurring donations

immediate tax receipts via email

easy-to-print year-end tax summary

no set-up costs or monthly fees
JustGive
deducts 4.5% of donations to cover transaction costs to nonprofits - automated online donations handled with minimal hassle sent directly to nominated nonprofits.
Nonprofits can include a "Donate Now" button or link in all correspondence (e.g. Web sites, blogs, newsletters and even email campaigns!).
JustGiving UK -
JustGiving
was started in 2000 with a simple vision:
'To use the power of the internet to enable people to raise far more for charities, easily and cost-effectively.'
This was the UK's first online fundraising business.
JustGiving
has changed the face of charitable giving in the UK:
charities raise more through JustGiving

than other sites (£770m+)

more charities use JustGiving than other fundraising services

12,000 charities have benefited

220 new charities join up each month

42,000 people

create a new fundraising page on JustGiving each month
Every penny of every pound that a person donates through
JustGiving
goes straight to their chosen charity (if it's eligible for Gift Aid). For this service,
JustGiving
charges a 5% fee that comes out of the Gift Aid that we reclaim for charities, and a £15-a-month membership fee.
On average, charities in the UK spend between
15p and 25p
to raise every new £1 by traditional means such as direct mail and street fundraising. Reclaiming Gift Aid is also costly, and many charities do not even try.
The Charities Aid Foundation estimates that over £700m in Gift Aid continues to lie unclaimed every year.
JustGiving
reduces costs on both fronts, which is why charities find it such good value for money.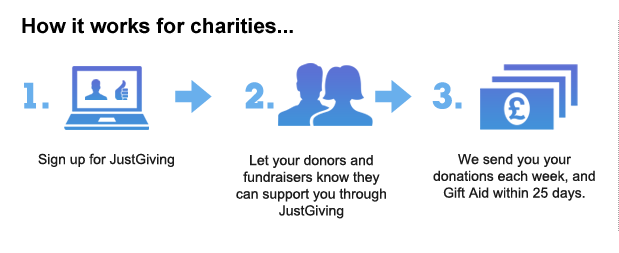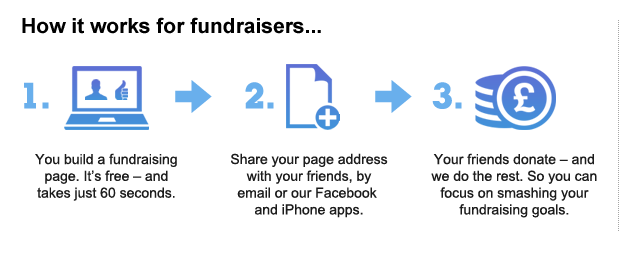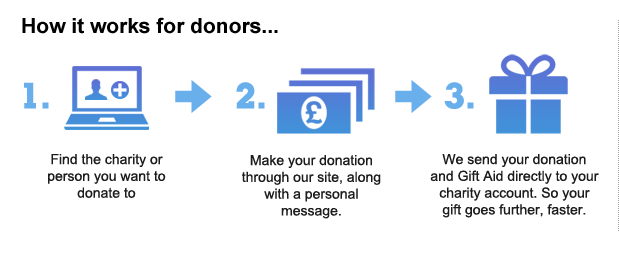 There are now online organisations who provide opportunities for online selling to help raise funds for your favourite charity
Example: Going Once, Going Twice, Guide Dogs Launch eBay Shop!
This is an

eBay for Charity

listing.
100%
of final sale price supports

Guide Dogs
Guide Dogs
is the working name of

The Guide Dogs for the Blind Association (UK)
Guide Dogs provide mobility and freedom to blind and partially sighted people. They have been expertly breeding and training guide dogs for 80 years, providing many thousands of dogs to blind and partially-sighted people of all ages, from all walks of life.
Payroll Giving
_______________________________________________________________________________________________
Payroll Giving (also referred to as Workplace Giving) allows employees to make regular donations from their pay to charities that have Deductible Gift Recipient (DGR) status. Employees can also match their employee's contributio
ns.
As a workplace giving partner, you will be sent an e-newsletter quarterly to update everyone in your organisation about how your contributions are helping animals in Australia. You will also have the opportunity to get involved in RSPCA events and activities.
_______________________________________________________________________________________________
Explore new ideas for online fundraising
Example
:
Use Your Purchasing Power to Help

Delta Society
What if a percentage of every purchase you made online was donated to Delta Society?

What if Delta Society earned a penny every time you searched the Internet?

Use one of the services below, and you can make it happen!
GoodSearch.com
is a Yahoo-powered search engine that donates half its advertising revenue, about a penny per search. Indicate Delta Society as your designated beneficiary charity the first time you use it. Use it just as you would any search engine, get quality search results from Yahoo, and watch the donations add up!
GoodShop.com
is an online tool that will donate up to 37% of each purchase you make to Delta Society! Hundreds of great stores including Amazon, Target, Gap, Best Buy, ebay, Macy's and Barnes & Noble have teamed up with GoodShop. Every time you place an order, you'll be supporting Delta Society.
You can support Delta Society and its mission by ordering books, tapes, videos, and other items for your education and enjoyment (and the enjoyment of your pet!) by shopping at

Amazon.com

and Dogwise.com.
"Amazon.com is pleased to have Delta Society in the family of Amazon.com Associates. We will ship products and provide customer service for orders we receive through special links on Delta Society's web site". Jeff Bezos, Founder & CEO
_______________________________________________________________________________________________
Nonprofits can connect online with their supporters/donors through a wide range of social networks.
Social networks and blogs are reported to have overtaken email in terms of popularity. It is therefore inevitable that they are increasingly used by fundraisers and campaigners to engage supporters.
Fundraising via online shopping can be a free and easy way for your supporters to raise money.
By asking your supporters to buy online via specific websites, you can receive cash donations at no cost to you or your supporters. There are a variety of websites that offer this facility but there are a variety of issues to consider before you enter such a relationship.
The Institute of Fundraising's
'Online shopping'
briefing highlights some of these issues and includes some top tips to help ensure fundraising success.
There are a variety of websites which enable you to collect money online. Some of these sites will incur different costs so it is important to do some research.
You will need to think about whether you want (and have the capability) to facilitate donations on your own website or whether you want to use another website's online giving page.
Security is of upmost importance when processing financial transactions. Your bank should be able to provide further information.
Comprehensive book packed with 100+ best practices covering Web 1.0, Web 2.0, and Web 3.0 nonprofit communications & fundraising.
From building your e-newsletter list to finding your "Twitter voice" to launching a mobile website and texting campaign on a small budget, this guide presents a step-by-step strategic plan for launching & maintaining successful social media & mobile marketing campaigns.
Anyone who subscribes to a chosen nonprofit causes electronic newsletters or mailing list should:
Bequest/Legacy Giving: individuals can reduce their inheritance tax liability by leaving a gift to charity in their will.

Payroll Giving: employees can donate straight from their gross salary; giving immediate tax relief and making gifts go further.
Share Giving: donors can get substantial relief on their income tax bill when making donations of shares.
What is philanthropy, language and terms used by grantmakers

How Trusts & Foundations operate

What things will and won't attract funds from Trusts & Foundations

What grantmakers look for in grant applications

What information to provide to Trusts & Foundations

What to include in your application for funding, what to leave out

How to maintain a good relationship with Trusts & Foundations to enhance your chance of future success